Online PR, Press Release Distribution and News Optimization
Online PR, Press Release Distribution and SEO for News and Press Releases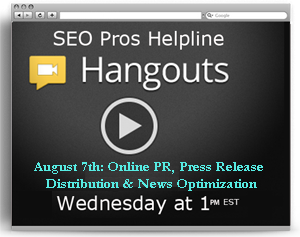 On Wednesday August 7th SEO Pros will be hosting a Google+ hangout at 1 PM EST "News Optimization and Online PR" with Marshall Simmonds who is easily the most experienced SEO in the industry when it comes to News optimization having added the NYT paywall and consultation with a who's who of Newpapers!
This hangout will be hosted by Terry Van Horne along with Steve Gerencser and the usual attendees from the SEO Training Dojo and SEO Pros!
The hangout will cover online PR, press release and news optimization, how to get coverage and more.
See More