SEO Pros Hangout: Promotion for Ecommerce Sites
Promotion for Shopping Carts and More!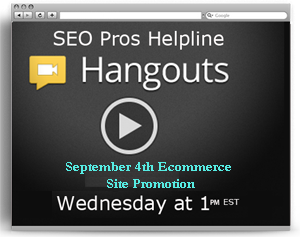 Dan Thies was the first person I thought of to guest in this hangout because he is an extremely brilliant Paid Platform
This hangout will be hosted by Terry Van Horne along with Steve Gerencser and the usual guys and gals from the SEO Pros and SEO Training Dojo!
The hangout will cover the way that ecommerce pages are more susceptible to the Panda's and Penguins; using Facebook and other social site free and paid platforms; Google Adwords, retargeting and PLA platforms and more (time allowing).
See More