SEO Pros Helpline Hangout May 8th 2013
Content and Social media Marketing 101!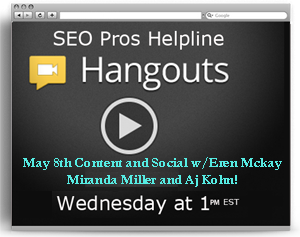 Today SEO Pros announced that Darren Shaw, Adam Steele and Mike Wilton will be guest experts for SEO Pros Helpline on Air Hangout. Topics will cover G+ Local, the upcoming changes to Places in the G+ Local Profile, Best practices for NAP (Name Address phone), the role of citations and reviews as local ranking factors and the role of website content as a ranking factor. The last 2 weeks we discussed traditional link building and content and Social Media marketing and Local seemed to be the next logical step in refocusing link building and development activity.
Two of the guest experts are favorites in the Dojo for Local Search info! We'll be starting the Hangout with a short interview and discussion with Terry Van Horne as host. We hope ya' all join us and bring along a few questions for our guests and the Helpline hosts and regulars.
See More