Technical SEO For Ecommerce
Technical SEO for Shopping Carts and More!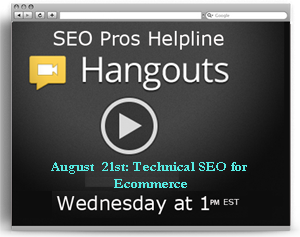 When I decided to do this hangout I remembered the "Search Geeks Speaks" podcast and knew I had to get these 2 guests back again. On Wednesday August 21st SEO Pros will be hosting a Google+ hangout at 1 PM EST "Technical SEO for Ecommerce" with Hamlet Batista and Scott Polk both of whom are well known for their success with ecommerce sites!
This hangout will be hosted by Terry Van Horne along with Steve Gerencser and the usual guys and gals from the SEO Pros and SEO Training Dojo!
The hangout will cover the age old question custom cart or out of the box solution; duplicate content issue; using canonicals; other crawl and inventory issues with shopping platforms; structured data and more.
See More