Video for DAM and Content Strategies
This week SEO Pros Helpline Hangout on Air is on video strategies with video marketing experts Greg Jarboe and Jonathan Allen who will join Terry Van Horne and Steve Gerencser and the panelists to explore the fundamentals of Video SEO and Content Strategies. The hangout will cover Must video go viral to succeed?; Video goals for Social Media Marketing; Digital Asset Management for Video and the role of Video in Content Strategy and the sales funnel.
In the recent Social Media Explorer report video is listed as one of the areas of interest for digital marketers. Like Mobile before it, Video has been touted in this way for the last 3 years yet it seems that marketers are not following through much like Mobile before responsive design was more prominent. Is technology, cost to implement or the learning curve what is prohibiting adoption of video?
Jonathan Allen
Jonathan is the former Director of Search Engine Watch. He joined Incisive Media as director of Search Engine Watch in December 2009, and was responsible for setting the editorial agenda, sourcing talent and delivering a brand new site design in May 2011. In May 2012 Search Engine Watch won the Gold Azbee National Award for "Online Excellence, New or Relaunched Web Site" from the American Society of Business Press Editors.
Jonathan has spoken at the largest search conferences – SES New York, SES San Francisco, SES London, SES Chicago – as well as PubCon, KoreaComm and SIPA. His presentations are focused on topics such as the future of SEO, video optimization, and marketing automation. He has also provided industry commentary on breaking news for the BBC, the Boston Globe and Deutsche Welle. Previously, Jonathan worked as a search marketing specialist for Incisive Media on leading B2B print/online publications and job boards in the legal, tech, and finance sectors (websites such as Legal Week, TheInquirer.net, V3.co.uk, Accountancy Age Jobs & Computing Careers).
Before Incisive, Jonathan worked as an SEO consultant and also co-founded Moblog:tech, an award-winning mobile social networking software provider and owner of the mobile social network Moblog. In 2009, Moblog won the Experimental & Innovation Webby award for a collaborative mapping project with Shozu and in 2008, Moblog:tech's build of Channel 4's Big Art Mob won the community engagement award at MediaGuardian Awards for Innovation (MEGAS), The Royal Television Society's On The Move Award, and 3 BAFTA nominations. Jonathan is best known in the search community for his video
https://www.youtube.com/watch?v=-NvwDP0prng 50 SEOs, 1 Question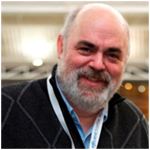 Greg Jarboe:
Greg is president of SEO-PR, which provides search engine optimization, public relations, video marketing, and social media marketing services. He's the author of YouTube and Video Marketing: An Hour a Day," a faculty member at Rutgers University and Market Motive, as well as a frequent speaker at SES conferences.