HowTo Tips to Develop Your Content Strategy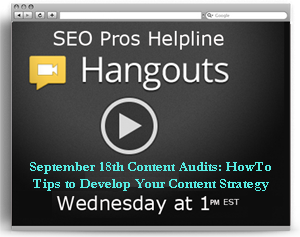 In an age where the internet can easily accommodate all digital content marketers are no longer handcuffed by what Internet technology can do and provide a good user experience. These advances have brought large graphics (Infographics) and streaming audio and video new opportunities for marketers to better tailor content to site goals and the best experience for the user to take actions that convert the goals and generate leads and sales.
Steve Gerencser is on hiatus so David Harry of Verve Developments will be acting as co-host. David and myself will be joined by Jim Hedger and Miranda Miller as well a few of the many savvy content marketers in SEO Pros and SEO Training Dojo.
Last Hangout