International SEO and Translation
SEO Pros hosted this Google "on Air" Hangout that Gabriella Sannino, Sante J Achilles, Doc Sheldon, Wissam Dandan and Jonthan Schikowski were guest panelists. Topics will cover translation and SEO considerations for International Campaigns; the impact of personalization on Google search; hosting, content and localization strategies for international SEO camapaigns.
Gabriella Sannino

Gabriella Sannino is the owner/operator of Level343, a copywriting & SEO company. She specializes in depth analysis, hard data, strong copy and tested SEO techniques to bring traffic and conversions to business websites. Her passions in brand building through social media, marketing techniques and writing strong copy that converts are all part of the strategy.
Doc Sheldon

Doc Sheldon is a retired business management consultant, and a perpetual student of all things SEO. He's also a copywriter, providing professional webcopy, articles and press releases. He's been involved in SEO for a little over five years, and writing professionally for over thirty.
Sante J. Achilles

Sante lives in Italy and works out of L'Aquila, a small medieval town east of Rome. After getting his degree in engineering in 1986, he worked for major aerospace companies, including the European Space Agency. His interest in the web began in 1993. He participated in the second World Wide Web Conference in Chicago, and resigned afterwards from the Space Agency to start his own company.
Currently he is a search engine consultant to industry and regional government, providing services in partnership with major Italian web agencies and Web Certain in the U.K.
Sante has spoken at strategic search engine events in London, Stockholm, and Rome, and teaches Search Engines and Web Marketing at the University of Florence, and the Accademia di Belle Arti. Sante is a Senior Editor and speaker for SEMJ.org. Sante's idea of relaxing? 2 hours of trekking in the mountains where he lives!
Jonathan Schikowski

Search Engine Marketer since 2004. Studied SEO and online marketing with several of the industry's most respected teachers. Attended numerous private training classes with international search engine marketing professionals.
Wissam Dandan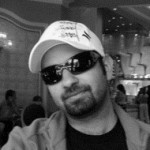 Wissam Dandan is an SEO and Internet Marketing consultant in Orlando & Daytona Beach, Florida. a Lebanese Origin with a Passion for SEO and Analytics, Founder of LebSEO Design.